Water Activities: Top 2 Destinations in India
At the very outset, let's make it known that Goa is not on this list. If you are looking for it, you will not find it. Why? Simply because there are other places in India that are putting the country on the map for top destinations for water activities.
It is time to turn the spotlight on to two other places that will have the adventurer in you completely awe-struck.
Destination No1: Lakshadweep 
Situated 400 kms off the coast of Kerala in the Arabian Sea, this is a  group of the most scenic 36 islands which are collectively called Lakshadweep.  This emerald in the sea is yet to become a tourist hotspot and that is what makes it all the more attractive. 
Surrounded by the azure waters of the Arabian Sea, Lakshadweep is the best spot for people who want a bit of both worlds- nature and adventure!  With its lagoons, marine life and pristine waters, Lakshadweep is a prime spot for water activities. 
What does Lakshadweep have in store for the die-hard water activities buff? 
Kayaking, surfing, canoeing, water skiing and swimming.

Jet skiing, banana boat rides, wakeboarding, windsurfing.

Dolphin sightings at Dolphin Drive Centre

Snorkelling at places like Kadmat, Bangaram and and Kalpeni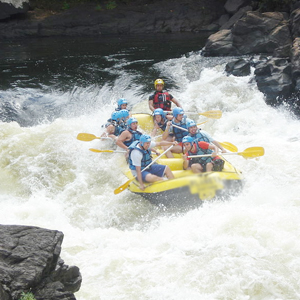 Destination 2: Rishikesh
Nestled in the foothills of the Himalayas along the confluence of the mighty Ganges and Chandrabhaga rivers sits Rishikesh, one of the most popular river rafting destinations in the world. 
The topography of Rishikesh has endowed it with the perfect streams that widen out into fast-flowing rivers.  Blessed abundantly by nature, Rishikesh beckons river-rafting enthusiasts from all over the world. 
What can you expect?
River rafting for beginners and experienced rafters.

Popular river rafting points are Bramapuri, Shivpuri, Marine Drive, and Kaudiyala.

Rafting at popular rapids like Black Money, Terminator and Blind Mice for experienced rafters.

Best season is from September to mid-November.
Top 2 Destinations In Europe
Destination 3: Mykonos, Greece
Mykonos is synonymous with serenity and scenery. Located in the Cycladic region of the beautiful Aegean Sea, Mykonos is known for its beaches "Paradise" and Super Paradise. 
It is a dream-destination for honeymooners, film-shootings, and water activity enthusiasts. 
 While the beaches of Mykonos are alive with blaring, thumping music,  its waters are contrastingly calm. The water-related activities one can indulge in are:
Snorkeling and scuba diving to explore underwater marine life.

Barefoot skiing.

Surfing, windsurfing and kite surfing.

Banana boat rides, sofa rides.

Attend diving classes.

Best time to go to Mykonos is from May to October. 
Destination 4: Lagos & Sagres, Portugal
Portugal's strategic location on the Atlantic Ocean has a great influence on its culture and cuisine. The country is known for its magnificent beaches which bring tourists from all over the world. 
The hidden beaches of Lagos and Sagres are must-visits that offer:
Windsurfing, paddle boating, scuba diving, wakeboard and.

Fishing in Sagres, kite surfing and bodyboarding.
There's Nothing Like The Caribbean Islands!
Destination 5 : The Caribbean Islands
The Caribbean Islands: A slice of heaven!  This massive archipelago has 13 sovereign states and 17 dependent territories. Sprawling across more than 1.06 sq. miles in the open ocean between the two Americas, some of the dream destinations in the Caribbean are the Cayman Islands, British Virgin Islands, Anguilla, Antigua, Montserrat, etc. 
The list is endless and visiting the Caribbean Islands is on everybody's bucket list. But what does it have for water activity enthusiasts?    
Kayaking, Catamaran rides at Cozumel.

Surfing in the Cayman Islands

Kitesurfing in the Dominican Republic.

Yacht rides, Paddle boating, and parasailing. 
Pack your bags and choose your favourite destination from the top 5 destinations for water activities! 
Know More About : Adventure Water Sports Of Uttarakhand