Effective Swimming Pool Designs to Consider
What is your favorite sport? Are you a swimming lover? Many people out there will say that their preferred sport is swimming. It is one of the most favored games of all times, of course, because of its wide array of benefits. There are plenty of reasons why people love swimming and other water sports. It is apt to say that swimming is the ultimate stress-buster. You will like to float in the water, feeling weightless. After an hour in the pool, there is no doubt that you will feel relaxed and energized. However, going to community pools and water parks may not give you the same experience. Check Out – The tips to enhance your swimming pool.
Benefits of having a personal pool
Having your pool at home can be very beneficial. First of all, a pool can enhance the appeal of your space. Spending time in a pool, especially in the summer months, can be a refreshing and satisfying break. You can even organize a pool party at your place and spend quality time with your family and friends. Also, dipping yourself in a Jacuzzi after a rough day at the office can instantly change your mood. Swimming is not only good for your health, but learning how to swim can save you in unexpected situations.
Enhance the beauty of your space with a stunning pool
If you do not own a swimming pool, below are some of the excellent pool design ideas that you can consider for your outdoor or indoor space. When you have your own house, you will want every big to little things in it. Owning a swimming pool means you can dive in whenever you want to relax and exercise. Apart from a beautiful landscape, a pool can improve the décor of your house. If you are planning to have your pool, you should be prepared to spend a substantial sum of money. However, the money you spend will be worth the fun and happiness that it will offer to you and your dear ones.
Things to consider
To design a pool, planning is essential. You cannot just dig a space and fill it with water. You should get in contact with a reputed Architecture firm in your locality that employ professional who can design an efficient and effective pool for your space. A professional pool designer will be ideal for planning a suitable swimming pool for your house. Are you ready to spend the required amount? Planning a budget is essential before you hire contractors. The money you are willing to pay will determine how big your pool will be. There are plenty of options available for you when it comes to pool designs. You can choose from the variety keeping in mind the amount you can afford to spend.
Select a design considering the users
You also need to consider the people who are going to use the pool. If there are young members in your house, you can build a separate pool for them. Or else, you can have one pool with different depths so that children can enjoy at the shallower part. It also depends on the space available for the pool. If you are not a professional swimmer, then a lap pool will be an ideal choice for your use. However, if you want a pool for recreational purposes, then you can select from the varied range of styles and shapes.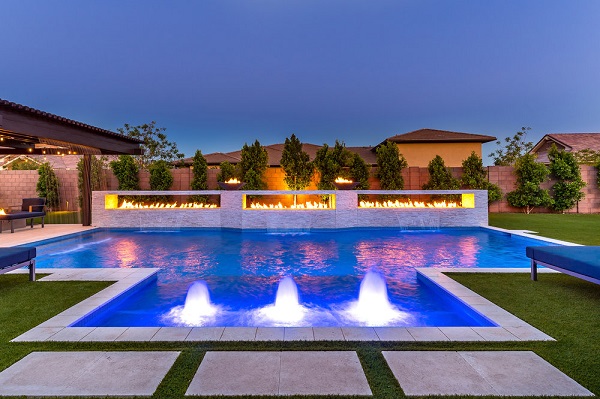 Making informed decisions is mandatory
In the recent era, most people are aware of the considerable benefits of swimming. As a result of which, homeowners are looking forward to having their pools. With this, the importance of swimming pool architects and designers are also increasing. However, there are some questions that you need to confirm before investing in a pool for your property.
What is your prime concern?
Do you want chlorine or chemical-free water?
What are the features you want in your pool?
What style, shape, and size do you prefer?
Have you planned your budget?
The pool that you get should suit your lifestyle. Whether you use it for exercising or your children want to play in it, your swimming pool should be ideal for all purposes. Also, the water-filtration systems are a crucial aspect when it comes to creating pools. As chlorinated and saltwater pools are equipped with different technologies, you need to decide before taking things forward.
Know More About : The Best Tips To Enjoy More Fun During Adventure Travel In 2020